TeamSupport offers powerful reporting and charting capabilities through an integration with Zoho Reports. Through this integration you can create custom reports, charts, and dashboards on a variety of TeamSupport data and you can also create custom dashboard which you can share throughout your organization.
Once the integration is set up, TeamSupport will automatically update Zoho Reports in near real time so the data will be fresh and not time delayed.
Zoho Reports is an add-on to your TeamSupport account and plans can be purchased directly from Zoho. Smaller TeamSupport accounts will be able to use the free account, but that is limited to 10,000 total records, and since we send over more data than just the tickets that threshold can be reached fairly quickly.
TeamSupport sends over the following data to Zoho:
Ticket Table – This is one of the main tables in TeamSupport and contains all of the ticket information. Most reporting will be done on this table.
Ticket Status History – Every time the status of a ticket changes, we log a record into this table. This allows you to keep track of how long tickets are kept in certain statuses.
Portal Login History – This table tracks every time a user logs into your Customer Hub
Knowledge Base Traffic – Tracks each time a customer views a knowledge base article and what keyword they used to find the article.
Chat Requests – Shows each time a user has requested a chat, and if the chat was answered or not
Setting up the integration is straight forward – First, you will need to get an

API

key from Zoho.
In the event that you will need to delete a ticket from TeamSupport, please be aware that the ticket will need to also be manually deleted from Zoho. This is because TeamSupport cannot delete tickets from the Zoho account through this integration.
Setup
1) Create a Zoho Reports account at http://Reports.zoho.com
2) Log into your Zoho Reports account and you should see a screen like the one below.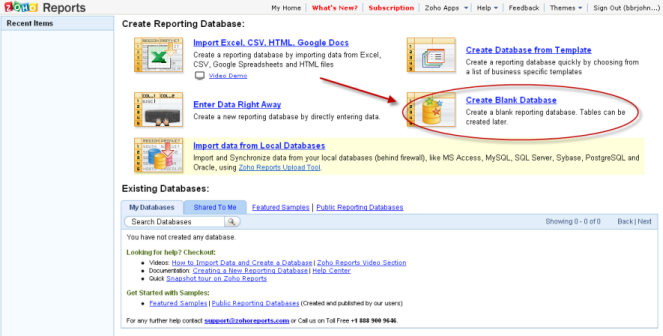 Click on the "Create Blank Database" link and name the database "TeamSupport" (note – it is important that the name is exactly "TeamSupport" otherwise the integration will not work). The screen should look like this:
Once you have named the database TeamSupport, click on the "Create" button and the blank database will be created.
3) Get your Zoho Reports API key.
Once you've logged into Zoho Reports, open up a new browser tab and go to this address:
https://accounts.zoho.com/apiauthtoken/create?SCOPE=ZohoReports/reportsapi
You should see a screen similar to the below:
4) Copy the "AUTHTOKEN" field and log into TeamSupport (with an Admin rights user account).
Go to the Admin tab and select the Integration tab at the top. Expand the "Zoho Reports" section. Copy the value into the Zoho Reports Authentication Token and the Confirm Zoho Reports Authentication Token fields as shown below:
5) Fill our your Zoho Username (Your email address is recommended. However depending on how you've setup your Zoho account, "Username" may be your email address, or an actual user name), Zoho password, and the Zoho API Key (which you copied from the steps above). Make sure to check the "Active" box.
6) Additionally, there is a grid field with the values "US" and "EU". The default is US. This value affects the hostname:

If US is selected, .com will be used for the hostname
if EU is selected, .eu will be used for the hostname


Within about 15 minutes the initial data should be loaded into your Zoho account and you will be ready to create graphs and reports in Zoho Reports.
If any of the tables created by this integration gets renamed the integration will create, and continue updating, a new table with the original name and the renamed table will not get any further updates.
Fields we are mapping to Zoho:
Tickets:
TicketNumber
TicketURL
Name
TicketTypeName
TicketSource
Status
Severity
AssignedTo
Customers
Contacts
ProductName
ReportedVersion
SolvedVersion
GroupName
DateModified
DateCreated
DaysOpened
IsClosed
CloserName
SlaViolationTime
StatusPosition
SeverityPosition
IsVisibleOnPortal
IsKnowledgeBase
DateClosed
DaysClosed
CreatorName
ModifierName
HoursSpent
Tags
SlaWarningTime
SlaViolationHours
SlaWarningHours
MinsSinceCreated
DaysSinceCreated
MinutesToFirstResponse
Still need help?
For more information on how to use Zoho Reports, click on the "Help" pulldown within the Zoho Reporting application.