Ticket Templates are configured under Admin -> Ticket Templates tab.
Ticket templates allow you to insert pre-built forms into a ticket's description. These templates can be triggered by a Ticket Type, an Action Type, or a Custom Field Pick List value selected within the ticket during creation. You can make as many templates as you like in TeamSupport.
With the exception of Action Type, you can also elect to use these templates on the Customer Hub as well. To do this, check the "Visible on Customer Portal" option.
To setup ticket templates, go to the Admin section and select the Ticket Template tab. The image below illustrates a template based on a pick list value.
Click New
Check Enable (you can turn off a template anytime by unchecking this)
Click the button next to Ticket Type, Custom Pick List, or Action type to decide when this template will be inserted into the ticket description.
Based on your selection, you will receive a drop down menu that will allow you to choose the Ticket Type or Action Type. For Custom Pick List, you will enter in the Pick List value.
Create your template. You can type in plain text, or you can insert some simple html
Click Save
The image below shows the end result of the template created above. You can see we have selected "Missing Spot" from a custom pick list called Secondary Ticket Type.
When this is selected, you can see the template we created in the description box below.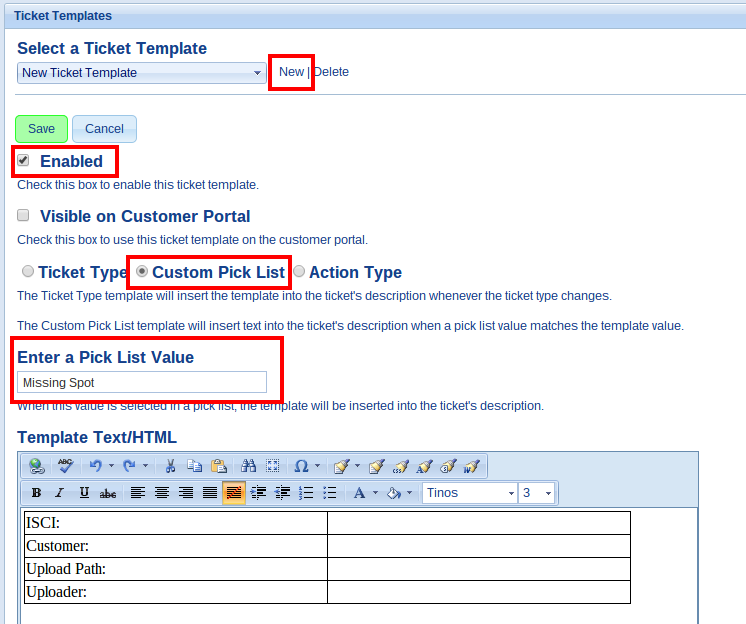 When this is selected on the ticket, you can see the template we created in the description box below.