To use the ticket submission portal, point a link on your website to your ticket submission portal URL (Admin/My Portal/Public Portal). Most TeamSupport customers embed this portal into an iframe so that it appears to be a part of your website. You can see a live example here. This form also appears in the Public Portal landing page and if you use it from there, you have nothing further to do – but to point your customers to the landing page URL.
In some cases however, you just want to present this simple form on a page of your website. The form below is customizable. You can change the theme color, decide what fields appear and even add custom fields. See below the image for more info.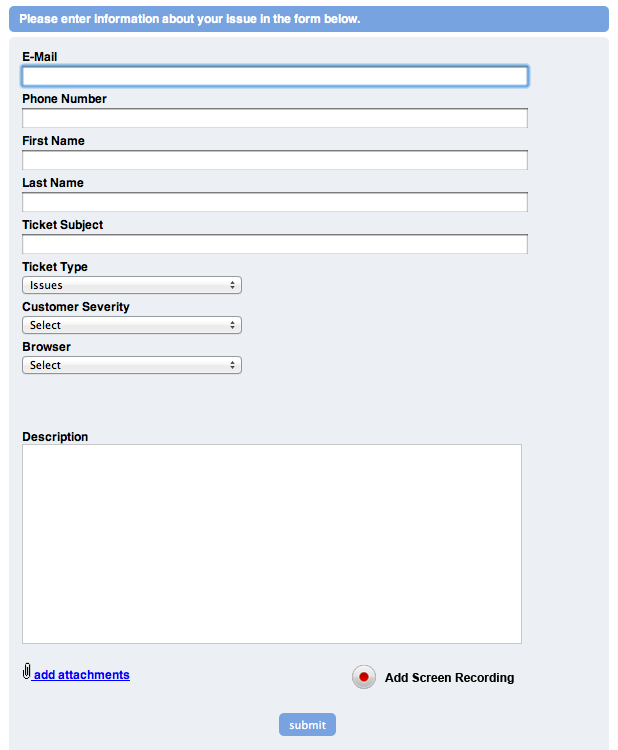 Add Screen Recording
Your customers can record their screen which will auto embed into the ticket. When you view the ticket within your account, you will be able to play the video right from the ticket.
Add Ticket Type selection
TeamSupport allows you to customize the types of tickets you want to manage. You can create as many as you like and determine which types may be selected by your customers on this form. Please see here about customizing ticket types and setting them to be "visible on portal".
Adding Custom Fields
When you add a custom field to your ticket types, you can elect to make certain ones visible on the ticket submission form by checking the "visible on portal" option within the custom field settings. Click here to see how.
Pass Parameters
You can pass parameters to the ticket submission page include the submitter's name, email, phone and the subject line – This allows for easy integration with an existing app or website.
The parameters available are "fname", "lname", "subject", "email" and "phone".
Here's an example request which includes all of the parameters:
https://ticket.[ServerName].teamsupport.com/basicportal.aspx?OrgName=YourOrgNameHere&fname=Jane&lname=Doe&phone=800-555-1212&email=jdoe@acmecorp.com&subject=Help Me!
Note that you will have to replace the "YourOrgNameHere" with your portal name which is available in Admin-Portal-General in the "Portal Name" field.
If you are using the Enterprise version of TeamSupport, you can also link the ticket to a Product by using the ProductID. To do this, first you need to look up the ProductID which can be found by running the "Product List" report. Once you have that number, you can pass it as a parameter just as above, using the parameter ID "ProductID".