Edition: Enterprise


High Level Overview
TeamSupport is not a sales tool and as such our solution does not entail sales force automation, lead generation, sales opportunities or marketing campaigns. We are focused on helping your organization provide the best customer & product support possible. The integration between the two products makes it very simple to provide an exceptional customer experience.


TeamSupport is Salesforce App Exchange certified which means that you can share data between TeamSupport and Salesforce. Here is our listing on the Appexchange.
How it Works
Here is a simple diagram of how the Salesforce integration works: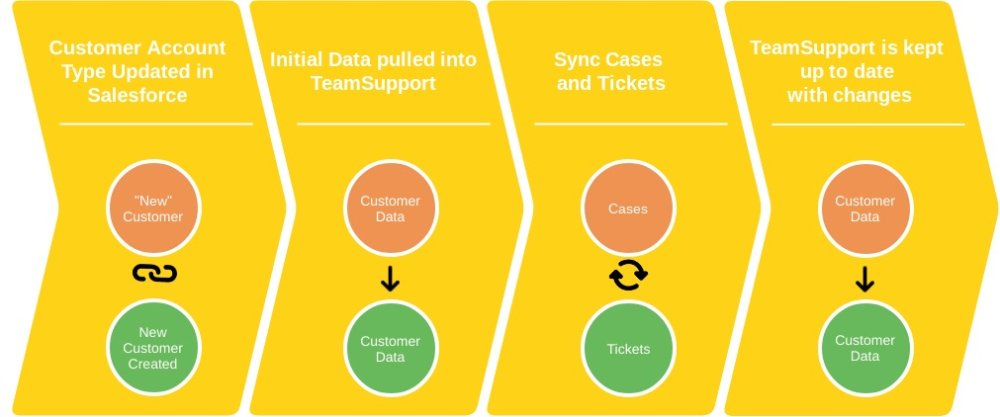 Additional details regarding the integration:
Linking Customer Information:

Once you have made a sale, simply change the Customer's Account Type in Salesforce to indicate that they are now an active customer.
Customers and their Contacts will be added to TeamSupport. Contacts must be associated with a Company in order to be added to TeamSupport.
When a Company/Contact is added to TeamSupport from Salesforce, we create an "integration link" between the systems for that Account. The integration will only apply to Accounts that have been linked in this way. This means a Company/Contact account that was created manually in TeamSupport will not be updated via the Salesforce integration.
Initial data "pull":

Mapped fields for new Customers, along with the Contacts associated with those Accounts, will be pulled into TeamSupport automatically on the initial pull.
Syncing Cases and Tickets (optional):

When "Push-out Tickets as Cases" is active, the mapped fields will be sent to Salesforce as a Case associated with the corresponding Account on the next sync.
"Pull-in Cases as Tickets" works the same way, just in the opposite direction: Salesforce Cases and Case Comments are pulled into TeamSupport as Tickets and Actions.
If both boxes are checked, the system will keep all mapped fields in sync. For example, if the Ticket Status is updated on the Ticket, it will update the Status on the Case the next time the sync runs (typically between 15-60 minutes). In the event of a conflict, the newest update will win. For example if the status is updated on a Ticket at 10:00 and the linked Case was updated at 10:05, the next time the sync runs, the new status will be pulled into TeamSupport and the status will be updated.
Future Updates to Customers and Contacts:

Any changes that are made to these linked Accounts within Salesforce will be pulled into TeamSupport on subsequent syncs.
Any changes that may have been made inside of TeamSupport for these Accounts will be overwritten by the Salesforce data. TeamSupport never pushes any Customer/Contact data to Salesforce, as Salesforce data is treated as the master record.
Setup
Field Definitions
Log into TeamSupport with an account that has Administrator rights and go to Admin->Integration->Salesforce.
Salesforce User Name: This is a required field. This is the email you use to log into your Salesforce account.
Salesforce Password/Confirm Password: This is a required field. This is the password you use to log into your Salesforce account.
Salesforce Security Token/Confirm Security Token: This is a required field. The Salesforce Security Token can be found in your Salesforce account.
Account Type to Link to TeamSupport: This is a required field. This list of Account Types determines which of your Salesforce customers are brought into TeamSupport. When a new Account is updated that matches one of these Account Types, it will be brought in on the next sync. The following are valid entries for this field:

One or more Account Types: Note that you can use whatever type you want and can have as many as you want. Just separate them with a comma.

NONE

: You can also put in the word "

NONE

" (no quotes) and we will import the Accounts/Contacts that have no Account type defined in your

CRM

.

ALL

: If you need to bring over all types of Accounts, you can put in the word "

ALL

" (no quotes).

Default

SLA

: By selecting a predefined

SLA

from the drop down menu, the

SLA

will be applied to the Customers settings. The default selection made will be the first

SLA

in your available list. This can be changed later if necessary.
Synchronization Active: When you are ready, enable this option. Syncs typically run every 15-60 minutes.
Pull-In Cases as Tickets: This setting will pull in Cases and Case Notes from Salesforce as Tickets and Actions in TeamSupport. See the "How it Works" section above for more information.
Push-Out Tickets as Cases: This setting will push out Tickets and Actions from TeamSupport as Cases and Case Comments in Salesforce. See the "How it Works" section above for more information.
Push-Out Tickets as Account Notes: This setting will push out Tickets from TeamSupport as Account Notes in Salesforce. If this option is checked, when a new ticket is created in TeamSupport, an Account Note will be created for the Account which gives the title of the ticket and a hyperlink to open the ticket in TeamSupport. After the initial Account Note is created, there are no other updates or additions made to the Account Notes even if there are changes made within TeamSupport.
Give Portal access to customers imported: Setting this option will automatically allow every imported Contact to access your Customer Hub.
Send welcome email to imported Contacts: When a new Contact is added and given Customer Hub access, TeamSupport can automatically send each customer a welcome email that contains a link to your Hub, their user name and a temporary password. The Welcome email can be customized by editing the email templates here.
Match Accounts by name: This option is intended to prevent creation of duplicate Company records. If enabled, if we find an Account update to pull from Salesforce, we first check to see if we have pulled it over before (by using a unique stored ID). If the ID is not found, we search the TeamSupport database for a match name for a Company created manually, for example. If found, we will apply the changes to the matched Company and will use this record going forward. If a matched name is not found, then it is created and a unique ID is stored. If disabled, we do not check for the matched name, thus creating the potential for duplicate Company names if you have already manually entered the Company.
Use sandbox server: If you are on a trial version of Salesforce, you may be using a "Sandbox" server. If so, this option needs to be enabled.
Custom Field Mapping: This is an optional feature which allows you to map fields other than the default fields between Accounts.
Field Mapping
Default Field Mappings
Companies: If these fields are changed in TeamSupport, the sync will override these values.

Name
Shipping or Billing Street
Shipping or Billing City
Shipping or Billing State/Province
Shipping or Billing Zip/Postal Code
Shipping or Billing Country
Phone
Fax


Contacts: If these fields are changed in TeamSupport, the sync will override these values.

Email
FirstName
LastName
Title
Phone
Mobile
Fax


Tickets:

Name
Description
Type
Status
Severity
Assigned To (Tickets to Cases only)
Creator (Tickets to Cases only)
Modifier


Actions:

Action Description
Action Creator


Custom Field Mappings
If you have Custom Fields on Accounts, Contacts, and Cases in your Salesforce account, you can create those same Custom Fields for Customers, Contacts, and Tickets in your TeamSupport account.
To add a Custom Mapping, first choose a Mapping Type: Account, Contact, or Ticket. Based on your selection, the available TeamSupport fields will be displayed in a drop down menu. Please note that Standard and Custom Fields are displayed in this list. Next, type in the Salesforce field name.
Finally, click the "Add mapping" button. Your map will be displayed in the appropriate category.
A common field to map for Accounts and Contacts is called "IsActive", which can be found under custom mappings. By mapping this field to your Salesforce field, you can automatically mark Accounts and Contacts as no longer being active.
Synchronization Run Times
The first synchronization will start after 15 minutes. The next cycle will begin no sooner than 15 minutes. The timing of each subsequent cycle depends on it's place in the queue, which is affected by the number of other items that require processing. Typically the timing of the cycles range from 15 – 60 minutes.
Logging and Troubleshooting
If your tickets are not syncing, you may look for errors in the "CRM Sync Errors" report which can be found in the Reporting Section. Additionally, logging reports can be found in the CRM Sync Logs report.
TeamSupport Button in Salesforce
You may add a TeamSupport button inside of your Salesforce account. Click here to learn more.