The Public Portals do not require your customer to login and consist of a landing page, ticket submission form, knowledge base and wiki articles.
To manage these, go to Admin/My Portal/Public Portal tab.
By default your landing page looks like this (but can be customized):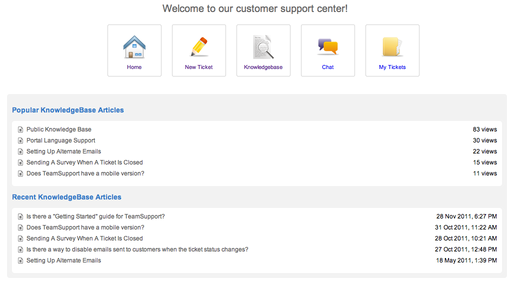 If you prefer to just use the ticket submission form, KB or Wiki Article URL's as stand alone and not within the landing page, simple embed these URL's in your site with an iFrame. These URL's are found on the Public Portal page and labeled as Ticket Submission URL, Knowledgebase URL, Wiki Documents URL.
Chat:
Each TeamSupport account includes live chat for free. When clicked, your customers can initiate a chat with someone on your team. If you do not want to display this button on your landing page, you can edit the html to either comment the code out, or delete it from the Landing Page Header section on the Public Portal tab.
My Tickets:
If your customers want to check up on their tickets and see what's going on, they can click this button, enter in their email address they used to submit the tickets and see a list of all their tickets. They can click on a ticket to see the details and add comments to them, which will update the ticket within your account and email you as well.