There are occasions where you may have multiple entries for the same Company or Contacts. In these cases, you may choose to merge these Companies or Contacts together.
To merge two Companies or Contacts into one, you will first choose the loser. The loser will be deleted and will not have an option of recovery. Data from the losing Company or Contact will never overwrite the winning Customer.
With the losing Company or Contact open in a tab, click the Merge button in the tool bar.

The following window will appear which will allow you to type in the name of the winner Company or Contact, which is the one that will not be deleted.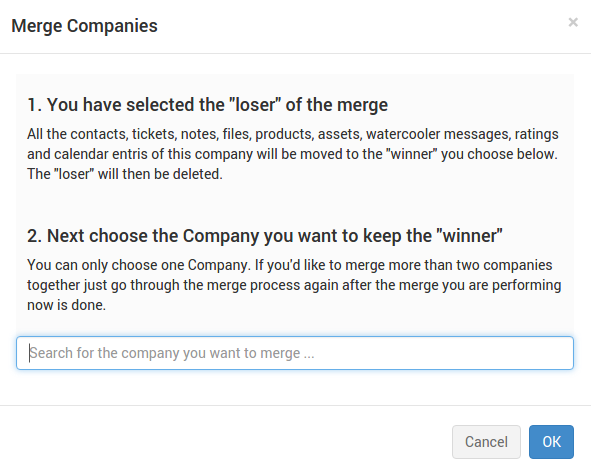 After typing in your entry, details of your entry will appear, along with a box to confirm that the loser of the merge will be permanently deleted.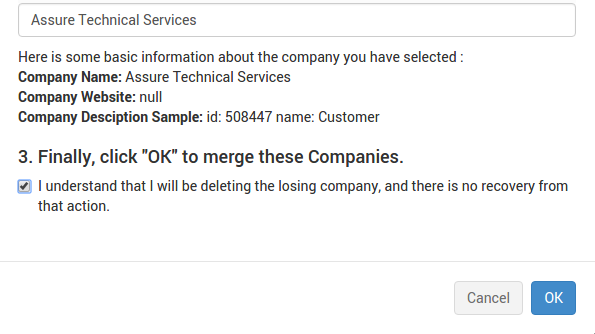 What gets merged

If the winner came from a

CRM

integration (such as Salesforce or Highrise), the unique link to that

CRM

integration will be maintained. If the winner did not have a

CRM

link, and the loser did, the loser's

CRM

link will be posted to the winner Company or Contact.
All tickets of the losing Company or Contact are moved to the winner.
Phone Numbers, Address, Files, Notes, History, Ratings, Reminders, Products associations, and Inventory associations of the losing Company or Contact are added to the winner record in addition to any of these items that may have already existed on the winner record.
Custom field data and general settings of the loser Company or Contact are posted to the winner record

ONLY

if the winners field is empty. The losing record never overwrites any data.


What does not get merged

Click here to learn more about merging Tickets.