Setup Chat Users
Any member of your team can be a chat user. By default, Chat is enabled for new users you create in your account. This setting is located in the Users -> User Properties -> "Customer Chat User". The user will need to refresh their browser, or log out and back in order to log in to Chat.
Setup Chat Interface
Navigate to the Admin section -> My Company tab and scroll to the Chat section and click the Edit Chat Properties link. Here you can upload your "Online and Offline" buttons, as well as a side banner image.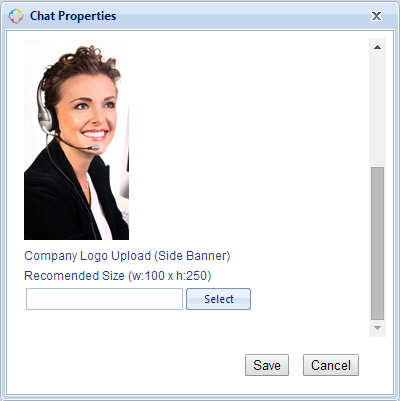 Here is an example of the Available and Unavailable buttons (but you can use anything you want):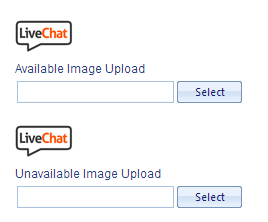 It is important to note that if chat is offline, your customers can still ask their question and leave a message. A new ticket will be created in your account with all of the details so when you are available, you can help your customer.
Once you have these items set, you are ready to copy the chat code on your website to display the Available and Unavailable buttons. By default, the Chat is already displayed on your Advanced Portal and your Customer Hub.
To do this, go to the Admin section -> My Company Tab and scroll down to the Chat section.
Simply copy and paste this code to your site and that's it!
When TeamSupport users set their Chat status as Available, we will display the button on your website as such. The same applies if every chat user has their chat status set as offline.
Pre-Populating Fields
If you are using TeamSupport's chat in an environment where the users are already logged into your application or otherwise known (note: See our documentation on Single Sign On to learn more about how to tightly integrate TeamSupport into your application), you can pass parameters to the chat interface.
The parameters you can pass are:

"fname" for the user's First Name
"lname" for the user's Last Name
"email" for the user's EMail address
"msg" to fill in the text of the message box


To implement these, you will need to add the query parameters when calling the chat dialog.
For example, here would be the call to a chat session from John Smith:
'https://app.[ServerName].teamsupport.com/Chat/ChatInit.aspx?uid=22bd83b8-5172-4509-8b1d-f209a0aa6ee9?fname=John&lname=Smith@email=JSmith@acmeco.com'