Customer Chat provides an additional channel for your customer to reach your Support team. Some of your customers may never use chat, but others may gravitate to this method if it is available. It is good to provide several different channels of communication and let your customers decide which one they prefer.
TeamSupport's Customer Chat has integrated Audio, Video, and Screen Share (Enterprise Only Customers). This lets you effortlessly switch to a more interactive session should the need arise. Once you have chat configured, click here to learn how you and your customers will use chat.
Setup Chat Users
Any member of your team can be a chat user. By default, Chat is enabled for new users you create in your account. This setting is located in the Users -> User Properties -> "Customer Chat User". The user will need to refresh their browser, or log out and back in order to log in to Chat.
Setup Chat Interface
Navigate to the Admin section -> My Company tab and scroll to the Chat section and click the Edit Chat Properties link.
Available Options
Online/Offline Buttons: You have the ability to select which buttons will be used for Online/Offline chat status. When at least one of your user has their toggle button set to "Online", the Online button will show. If all of your users have their toggle buttons set to "Offline", the Offline button will show to your Customers. When Offline, your Customers will still have the option to submit a ticket for their question.
Avatar: You can change your avatar that will be displayed to the customer on their chat window.
Message: You may customize the initial message displayed to your customer on their chat window.
Enable Avatars: In the User section of TeamSupport, each user has the ability to upload their Avatar of choice. If this box is checked, this Avatar will be displayed while chatting. If left unchecked, the system will display the Users initials.
Enable ScreenShare/Voice Calls/Video Calls (Enterprise Only): You may turn these options on and off depending on your preference. This is an account wide setting.
Press the "Save" button to return to the Admin ->My Company Screen.
By default, the Chat button is already displayed on your Customer Hub. If you are interested in placing your Chat somewhere other than the Hub, you may copy the chat code to any website that you manage.

Simply copy and paste this code to your site and that's it! You can also test your chat by clicking the "Test" button.
Pre-Populating Fields
If you are using TeamSupport's chat in an environment where the users are already logged into your application or otherwise known (note: See our documentation on Single Sign On to learn more about how to tightly integrate TeamSupport into your application), you can pass parameters to the chat interface.
The parameters you can pass are:

"fname" for the user's First Name
"lname" for the user's Last Name
"email" for the user's EMail address
"msg" to fill in the text of the message box


To implement these, you will need to add the query parameters when calling the chat dialog.
For example, here would be the call to a chat session from John Smith:
'https://app.<a href="http://help.teamsupport.com/1/en/topic/how-do-i-find-my-url" target="_blank">[ServerName]</a>.teamsupport.com/Chat/ChatInit.aspx?uid=22bd83b8-5172-4509-8b1d-f209a0aa6ee9?fname=John&lname=Smith@email=JSmith@acmeco.com'
Disabling Chat
There are two steps to disabling Chat.
Step One: Disabling users
All users in your account should have their user settings disabled. By default, Chat is enabled for new users you create in your account. This setting is located in the Users -> User Properties -> "Customer Chat User". When Chat is disabled for a user, it will not appear on their left hand navigation and the "Customer Chat Online/Offline" button on the upper right hand of the screen will not be visible.
Step Two
You will need to disable the "Chat" button in your Customer Hub Settings. This is found in Admin -> My Portal -> Customer Hub Settings -> Enable/Disable Features section. Be sure to click save. Once the browser is refreshed, the Chat logo will no longer appear on the Customer Hub.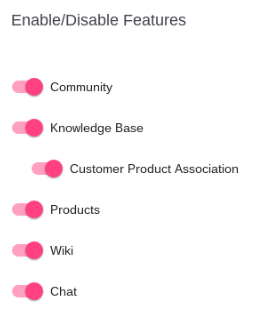 Additionally, if you placed your Chat code anywhere on an external website, like your homepage, this will need to be removed.