CDI

Overview

One of the powers of TeamSupport is that we track a great deal of information about your customers.

The Customer Distress Index, or CDI for short, computes a single number for each of your customers which will give you an idea of how often your customers are interacting with your support department and how quickly their issues are being resolved. This can be an important metric to understand how much difficulty your customers are having with your product or service.

The CDI computes multiple individual metrics for each of your customers, and compares them with the averages of all of your customers. It's important to understand that the CDI doesn't measure absolute numbers, but instead it is looking at how much above or below the average of all of your customers a particular number is.

The CDI data is displayed in the Customer section via a gauge indicator. A higher CDI number indicates a higher potential for distress.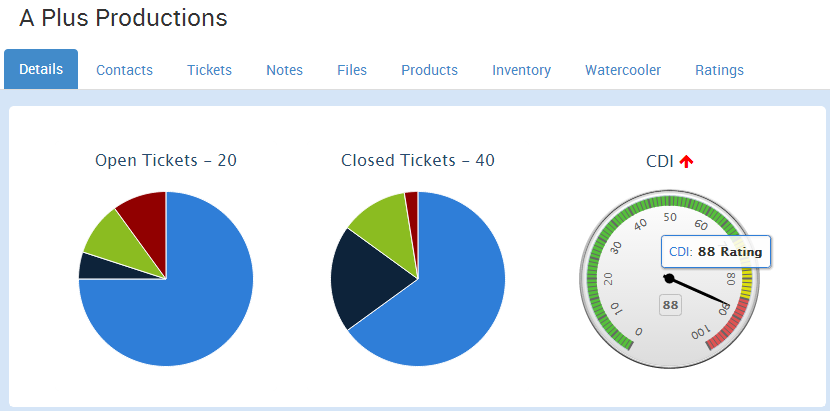 The calculated rating is displayed in the middle of the gauge, and is also displayed if you hoover over the gauge.
CDI Trend
While the CDI number gives you a great indication as to the health of your customers, it is a static number and doesn't give any indication of which way the CDI is moving. To address this, we have added the CDI Trend Indicator.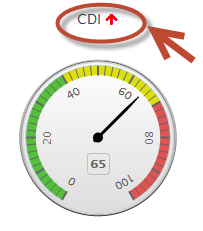 The CDI Trend Indicator is a red arrow pointing up, or a green arrow pointing down above the CDI gauge. When the CDI computations are run, TeamSupport also looks at the average CDI of the past 7 days for that customer and then displays an arrow indicating which way the CDI is moving. A red arrow pointing up indicates that the CDI is trending higher (not a good thing), and conversely a green arrow pointing down shows that the CDI is moving in the right direction.
Please note that since the trend is based on the prior 7 days of CDI data, the trending information may not be accurate for new accounts or if the CDI Weights have been recently changed.
Understanding which direction the CDI is moving for a given customer is critically important data and will help you understand and spot potential issues before they become large problems.
Making the most of
CDI
CDI is integrated with several areas of TeamSupport:
Reporting: In the Customers table, you can access the

CDI

data via the Customers.Customer Distress Index and Customers.Customer Distress Index Trend fields. The Trend number will be a -1 (good – trending down), 0 (no change over the last 7 days) and 1 (bad – trending upwards). The

CDI

number will be a value 0-100; the same as is displayed in the Gauge.

Custom

CDI

Ticket Widget: A popular Ticket Widget utilizes

CDI

data to display on the ticket page. This makes the

CDI

data even more valuable to your everyday TeamSupport users.
Ticket Automation :

CDI

Value and

CDI

Trend are available in Ticket Automation as a condition. This will allow you to take action if a Customer's

CDI

value meets a certain threshold. For example, if a new ticket has a Customer association whose

CDI

is above 80, you can alert all users via a WaterCooler post.
Ticket Types: Ticket Types are a core feature of TeamSupport and allow you to classify tickets in a structured manner. An option is provided for each Ticket Type which will excluded it from the

CDI

calculation. This may be necessary for Ticket Types that are not related to the satisfaction of your Customers, or skew the metrics (i.e. automatically generated tickets, internal tickets).
CDI

Settings

To configure the CDI in your account, from the left hand navigation, select Admin->My Company->CDI Rating tab.
Field Definitions
CDI

Rating: Contains a timestamp for the last time your

CDI

was processed. Your

CDI

is indexed once per day, but you can force update using the "Force

CDI

Update" button.
Weights: There are multiple weights which you can configure.
Force

CDI

Update button: This button will allow you to force your

CDI

to be indexed. The

CDI

is automatically indexed once per day. A forced index could take up to 30 minutes.
Chart Green Upper Range: Indicates the upper limit that your

CDI

gauge will show as Green, or meaning low distress.
Chart Yellow Upper Range: Indicates the upper limit that your

CDI

gauge will show as Yellow, or meaning moderate distress. This value must be equal to or greater than the Green Upper Range in order to save.
Weights
There are multiple metrics that the CDI computation uses. They must all total to be exactly 100%. If you do not wish to include one or more of the weights in the calculation of the CDI, simply set to weight to 0%.
Total Tickets Created in Lifetime of Account: The total number of tickets (that are both open and closed) which have been created over the lifetime of a given customer. This measures the total volume of interactions that a customer has had with your support team, and a high number here could indicate a customer who has needed a lot of help and handholding as compared to your other customers.
Tickets Created in the Last 30 Days: The number of tickets which have been created in the last 30 days. This measures how active a customer has been recently and may be an early indicator of problems with a particular customer.
Number of Tickets Currently Open: Measures the number of tickets which are open, wthout regards to how long they have been open. This is a measure of the backlog, and a high number here could indicate a customer who is frustrated with a lack of follow up and response from your support team.
Average Time Open Tickets Have Been Open: This measures how "stale" tickets are by looking at the amount of time they have been open and not addressed. While this is related in many ways to the above metric (total number of tickets currently open), it differs in that it looks at how long they have been open and not the number of tickets. There is a direct correlation between how long a ticket has been open and the frustration level of your customers.
Average Time Closed Tickets Took to Close: This metric will show if it has taken longer, on average, to address this customer's tickets and could indicate frustration because of the lack of timeliness in resolving their issues.
Ticket Sentiment: TeamSupport is leveraging

IBM

's Watson technology to provide internal sentiment analysis on Ticket Actions. You may notice public Actions scored with sentiments like satisfied, polite, and frustrated, along with scoring at the Ticket and Customer level. The Ticket scores can be considered as a weight in this

CDI

calculation.
Action Count: A ticket can have any number of actions. It is reasonable to correlate that a higher action count indicates a higher ticket complexity and may lead to customer frustration.
Ticket Severity: Ticket Severity is an important field that is used throughout TeamSupport. We use a comprehensive list of names to issue a rank to the Ticket Severities. For example, 1 corresponds to Urgent emergency/outage, 2 Major, 3 Normal, 4 Low, 5 Very Low, 6 No Severity. These ranks (1-6) are used in the calculation of the

CDI

where Tickets with a higher rank (1 being the highest rank) will raise the

CDI

score.